Gather with your friends and create your own custom sign!
Would you like to  learn how to create a special sign of your own and have a fun and unique experience doing it? Register for one of Glowing Ginger's upcoming workshops, where Kimberly will guide you through a project you will be proud to showcase.
Enjoy a relaxed and fun social scene where you get to bring your friends and meet others, while learning a new skill. All materials and instruction are provided to create your sign will be provided, complete with your choice of wood and sign design stencil.
A great creative alternative to typical social activities!
To sign-up or request more information about upcoming workshops click here or call Glowing Ginger at (905) 717-0003.
Upcoming Events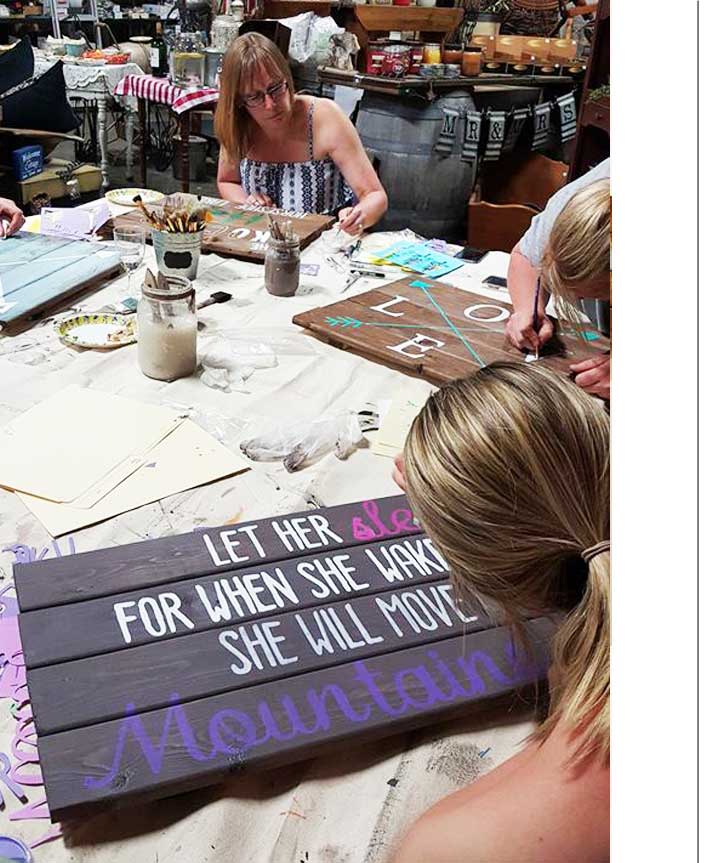 October & November Sign Workshops
Join me for a fun night of socializing and creativity. I will supply all the materials and instruction for you to paint your own custom wood sign or rustic tray. A monogram style sign or simple text work best for the writing.
Your painting choices include:
20 x 17″ sign, 13×24″ sign, 20 x 11″ single board sign or a 24×13″ rustic tray
To Register:
1. Fill out the contact form below.
2. An email will be sent to you with an email address for your e-transfer payment.
Location: Avenue Decor Center, 17035 Yonge St, Newmarket, ON L3X 2W8
Cost: $75.00 per person (*unless otherwise noted)
DATES: 
Friday, October 6 – 7:00 pm to 10:00 pm
Saturday, October 7 – 7:00 pm to 10:00 pm
Thursday, October 12 – 7:00 pm to 10:00 pm – organized by Andrea Mitchell
Tuesday, October 17 – 7:00 pm to 10:00 pm – organized by Jane Pratt
Friday, October 20 – 7:00 pm to 10:00 pm – Private Workshop, organized by Marina Gravelle
Saturday, October 21 – 7:00 pm to 10:00 pm
Saturday, October 28 – 7:00 pm to 10:00 pm – organized by Tanya Dallaire
Friday, November 3 – 7:00 pm to 10:00 pm – organized by Laurel Cutting
Monday, November 13 – 7:00 pm to 10:00 pm – Public Workshop
Thursday, November 16 – 7:00 pm to 10:00 pm – organized by Daniela Mallinos
Saturday, November 18 – 6:00 pm to 9:00 pm – organized by Sarah Hurst
Thursday, November 30 – 7:00 pm to 10:00 pm – organized by Adela Minor
Friday, December 1 – 7:00 pm to 10:00 pm – Public Workshop
Sunday, December 3 – 10:00 am to 1:00 pm – Get your Jingle on – Holiday trio workshop (open to the public) *$98.00
Monday, December 4 – 7:00 pm to 10:00 pm – Get your Jingle on – Holiday trio workshop (open to the public) *$98.00
Thursday, December 7 – 7:00 pm to 10:00 pm – organized by Leslie Holden
Sunday, December 17 – 6:00 pm to 9:00 pm – Private Birthday Party